Today it's already time for a new challenge at Crafting for all Seasons!
And this time we have chosen the theme of WHITE ON WHITE
Heute ist es schon wieder Zeit für eine neue Challenge bei Crafting for all Seasons!
Und diesmal haben wir uns das Thema WEIß AUF WEIß ausgesucht!
We have two fabulous sponsors!
Wir haben zwei fabelhafte Sponsoren!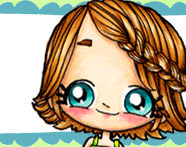 Some Odd Girl is the place to find fun and quirky digis that I know you will love! Some Odd Girl was inspired by two great friends who are such dolls! They took one of my pencil drawings and made it into red rubber and that act of generosity spiraled into what you see today. I am a married momma of 2 who has a hubby who not only loves me but supports my crafting and my site as my IT guy. What more could a girl want? I am an artist born who started out with pencils then acrylics and now also scrapbook and am a cardmaker. I design things that I love and hope you have as much fun with our stamps as we do! We'd love to supply the winner with 3 freebies of their choice from our shop so I hope you'll take a look around and pick your favs!
Some Odd Girl ist die Anlaufstelle,um lustige und skurrile Digi-Stempel zu finden und ich weiß, dass ihr sie lieben werdet! Some Odd Girl wurde von zwei guten Freunden, solchen Schätzen,inspiriert! Sie nahmen eine meiner Bleistiftzeichnungen und machten sie zu rotem Gummi. Und dieser Akt der Großzügigkeit wuchs spiralförmig zu dem, was ihr heute sehen könnt!Ich bin eine verheiratete Mama von zwei Kindern, die einen Ehemann hat,
der mich nicht nur liebt, sondern der mich auch in
meinen Kunstfertigkeiten unterstützt und mir als IT Kraft zur Seite steht.
Was könnte eine Frau mehr wollen? Ich bin ein geborener Künstler, der mit Bleistiften angefangen hat, dann zu Acryl kam und nun auch scrappt und Karten bastelt.
Ich entwerfe Dinge, die ich liebe und hoffe, dass ihr mit unseren
Stempeln genauso viel Spaß habt wie wir!Wir freuen uns dem Gewinner 3 Gratisstempel seiner Wahl aus unserem Shop zur Verfügung zu stellen, also hoffe ich ihr werdet mal einen Blick rein werfen und eure Favoriten aussuchen!
Kristy is the designer of Some Odd Girl stamps
Kristy ist die Designerin von Some Odd Girl.
You can find her beautiful stamps HERE!
Ihr könnt ihre wunderschönen Stempel HIER finden!
The prize she is offering for this challenge is: 3 digital images
Der Preis, den sie für diese Challenge zur Verfügung stellt ist: 3 digitale Motive
Whoopsi Daisy has been trading since 2009... I began the company when I retired from working for a major Multinational Company as a Planner....I have sketched little girls since I was a child and I now have the time to make it my Job...the future is looking very bright for Whoopsi Daisy as I am working on a brand new outlet for the little cuties.
Whoopsi Daisy ist seit 2009 auf dem Markt...Ich gründete die Firma als ich, von einer bedeutenden multinationalen Firma, in welcher ich als Planer gearbeitet habe, in den Ruhestand ging...seit meiner Kindheit habe ich kleine Mädchen skizziert und nun habe ich die Zeit dass zu meinem Job zu machen...die Zukunft für Whoopsi Daisy sieht rosig aus, da ich an einer brandneuen Absatzmöglichkeit für die kleinen Schnuggelchen arbeite.
HERE you can take a look at all her digis!
HIER Könnt ihr einen Blick auf all ihre Digis werfen!
Whoopsi Daisy is pleased to offer this week's Crafting for All Seasons Winner 2 sheets of digital images that's 8 images in total!
Whoopsi Daisy freut sich, dem Crafting for all Seasons Gewinner dieser Woche 2 Sheets mit Digitalen Stempeln, was zusammen 8 Motive sind, zu spendieren!
We also want to thank you all for participating in our last challenge! There were some brilliant entries!
An dieser Stelle möchten wir uns auch ganz herzlich für eure Teilnahme an der letzten challenge bedanken! Es waren super Werke dabei!
The randomly picked winners of our lovely sponsor prizes from ch #14 are:
D
ie zufälig gezogenen Gewinner unserer bezaubernden Sponsor-Gewinnen von Ch# 14
sind:
The winner of the Bugaboo Digi Stamps is: #21 - Linda Carson
I will contact you using the email address you added to your link.
Ich werde dich über die Email-Adresse deines Beitrags kontaktieren.
The winner of The Stamping Boutique is: #36 - Karen C
I will contact you using the email address you added to your link.
Ich werde dich über die Email-Adresse deines Beitrags kontaktieren.
The top 3 picked by the DT are:
Die vom DT ausgesuchten Top 3 sind:
#13 - Tracy McDonald
#16 - Tracey Brossart
#39 - Gro Tjeltveit
Congratulations Ladies! Please grab your badges and display them on your blogs with pride!
Herzlichen Glückwunsch Ladies! Bitte nehmt euch euren Banner und zeigt ihn stolz auf euren Blogs!
Here is what the Design Team created with the lovely images we were given: